Apart from his family, and new technologies, Ultimate Frisbee is Patrick's biggest passion. At the age of 16 he organized his first team: Ultimate Stars Leiderdorp. Although most of the players were 2-3 years younger than him, the team was one of the top 3 teams in Holland during its 5-year existence.
After moving to Canada, Patrick's teaching skills and International experience landed him a job as the coach of the Toronto Women's team. Successfully capturing the National title in 1989, he returned to the playing field and focused again on his own skills. He joined the Toronto Men's team for the World Cup Championships in 1991 and saw his picture on the back of the organizer's truck ;-)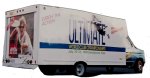 The move to Portugal in 1995 left Patrick (and Sofia) without a team to play with. Leveraging his new passion for Internet technology, he launched the Portuguese Beach Ultimate website and, with Sofia, organized a team and started an International Beach Ultimate tournament near Aldeio do Meco.
Unlike Ultimate played on grass, Beach Ultimate is a relatively young sport. Seeing its potential Patrick decided to set up an international organization that focuses on promoting Beach Ultimate. On 31 July 2001, BULA (Beach Ultimate Lovers Association) was officially started and representatives from 26 Beach Ultimate tournaments around the world voted Patrick as the Executive Director.
Ultimate Frisbee is a great team sport played by both men and women. It is physically challenging, yet promotes sportsmanship. In 2004 Patrick and BULA organized the first World Championships Beach Ultimate in Figueira de Foz, Portugal. With 450 participants from 22 countries it turned out to be a big success and a great digital memory attached to it.

The 2nd World Championships in Brazil in December 2007 and the 3rd in 2011 in Italy were also organized by BULA, Patrick, and local players. And now the preparations are going on for the 2015 World Championships in Dubai.

Patrick currently plays on the Portuguese national team, as well as with national champions LUC, and in Paganello top international all-star team: SeXXXpensive. He is also the Chairman of the WFDF Spirit of the Game Committee and the president of the Portuguese flying disc federation.
Links: